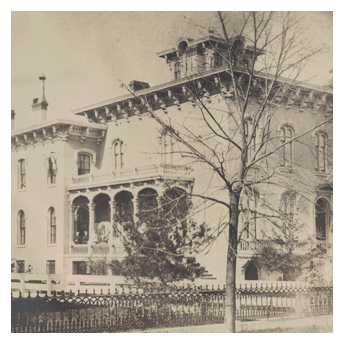 Are you looking for information on how to search for Chicago ancestors or hoping to find a genealogist who can help?

If so, welcome! Please read on.
Whatever approach you choose to take, my goal is to help you figure out the most efficient, economical, and productive ways to meet your research needs.
The web pages highlighted below offer a lot of good advice, but if you'd prefer to pick the brain of a real live person, I offer no-strings-attached consultations by email and generally reply the same or next day. I don't claiim to know everything about Chicago research, but my experience offering document retrieval for 10+ years has given me insights that I'm happy to share.
Feel free to use the contact page to send me a note. ~ Cyndy, Site Founder
P.S. The house on the left was located at 902 Prairie Avenue and family tradition suggests my husband's ancestors watched the Chicago Fire from the cupola. How cool is that?